You don't have to be a smarty-pants to be a bookworm.
This game is one of the best competitive games I've played on my iPhone. I have other word games like
Scrabble
and assorted games that are somewhat fun to play in turns with friends like
Skee-ball 2
, but I can really see myself playing this game for a while.
The characters and pets that you can select at the beginning of each game each have unique abilities that you can use to your advantage and suit to your play style for the best strategy and score. The play-style is a bit like Boggle in that you can choose any combination of letters from the board; they do not have to be adjacent. Special tiles can give you benefits and boosts like heath replenishment, double word score, and the chance to make a second word with the letters of the word you already played. These embellishments on an otherwise stale game keep it interesting, new, and playfully competitive.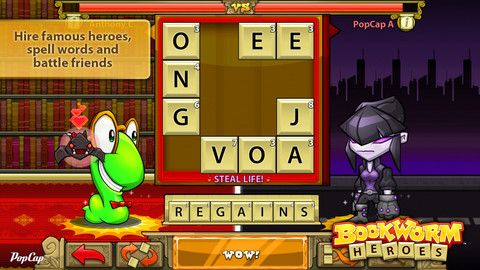 I played this game on: iPhone 4S This game was: FREE
I might be over this game before I even finish writing this review.
I really enjoy real life skee-ball and this game has a lot of skee-ball accoutrement, but it simply does not hold my attention in the long run. Maybe that's okay for some folks who just want to have something to do for a few minutes on the throne, but I really think games should be better than toilet fodder. The mechanics play pretty well with only an occasional hiccup- my husband calls this "dicking it" as in, "Damn, dicked it again!". The day we each downloaded this game at the behest of my mother who wanted someone to play against, Husband spent the entire Target shopping trip pushing the cart and playing Skee-ball 2. The next weekend shopping trip?
Yup.
Cart + Skee ball 2 = Wife Has To Do All The Shopping.
The replay value comes not so much from the sub-par gameplay but from the digital goodies you can buy and collect with your ticket earnings...just like the crappy prizes you win at a real arcade! Some of them are usable in-game items like different balls or boards, but they are just skins; they don't alter the gameplay. Challenge friends and random opponents at your own risk. If they don't continue the 3 round game, your queue will fill up and you won't be able to remove them thus preventing you from starting new games. Sigh. Why can't games just work right?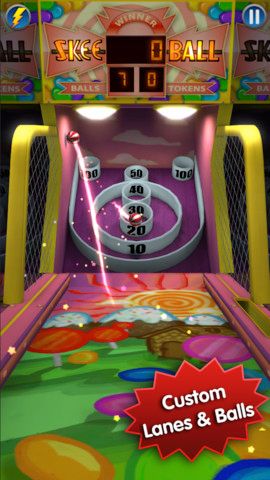 I played this game on: iPhone 4S This game was: FREE
What's your current favorite iPhone or mobile game?